Jacky Xie Zhiming from the Millennium Harbourview Hotel Xiamen
Awarded the honor of 7th "Xiamen Outstanding Young Citizen"
Jacky Xie Zhiming, the Banquet Manager of the Millennium Habourview Hotel Xiamen was won the honor of "Outstanding Young Citizen" in the 7th selection activity of "Xiamen Top Ten Young Citizen".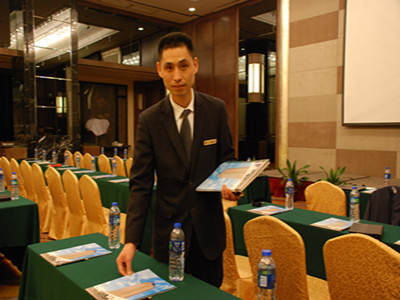 Jacky Xie joined the Millennium Harbourview Hotel Xiamen as a waiter in 1997 when he came to Xiamen; he has grown as the Banquet Manager now. In the past 16 years, he was made great efforts in works, hammer away at provide customers with high-quality professional and customize services. His serious attitude was approved by hotel leaders and customers, he often receive complimentary letters from customers due to his excellent services. He treats hotel as his home, always can see him in every banquet and outside catering. In the past 16 Mid-Autumn Festival and Spring Festival, he has sticking to his post, and give the opportunity of go home and reunion to other colleagues.
This campaign is cooperating organized by Xiamen Municipal Party Committee, Xiamen Public Security Bureau, Xiamen Human Resources and Social Security Bureau and Civil Servants Bureau etc. the object of campaign is required that aged 18 – 35 years, has work in various enterprises or institutions more than two years with unregistered residence of Xiamen. The selecting activities was started from April 2013, after the recommend of nomination, primary survey, nomination audit, online voting, comprehensive evaluate and other processes. Jacky Xie Zhiming from Millennium Harbourview Hotel Xiamen was award the honor of "Outstanding Young Citizen" with the 20th performance.
Edited by: Millennium Harbourview Hotel Xiamen