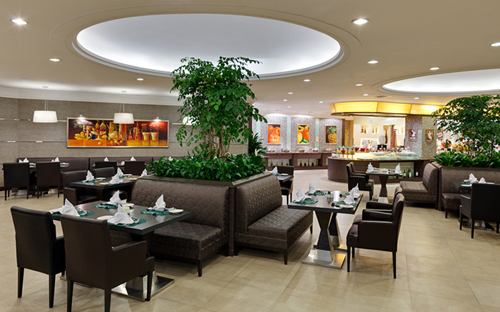 A serious of selected new collections was launched in the Harbour Café dinner buffet recently; the Chef David Bai prepared a serious of new creative dishes for the different themed buffets, selection of fresh ingredients, perfect food collocation, prepared sauce, unique cooking skill, which will bring you to enjoy the exquisite gourmet in the Harbor Café
Harbour Café
The Harbour Café is elegantly decorated with cozy and romantic ambiance, arc ceiling and the tender lighting; the dark brown European style furniture reflects a delightful and magnificent atmosphere. The restaurant composes exotic environment with colorful paintings around. The spacious buffet counter served with exquisite global gourmet can satisfy your taste buds immediately; together with the sweet and warm services presented by our staffs will bring you a great dining experience.
The Harbour Cafe is one of the most popular cafes in Xiamen that serves delicious buffets and a comprehensive a la carte menu combining the best of western and oriental dishes.
Daily Themed Buffet:
Monday: French Feast
Tuesday: Caribbean Delight
Wednesday: Asian Spice Night
Thursday: German Fare
Friday &Saturday: Seafood Fare
Sunday: Continental Delight
Reservation: (86 592)2023333-6616
Edited by: Millennium Harbourview Hotel Xiamen